Politics
A Level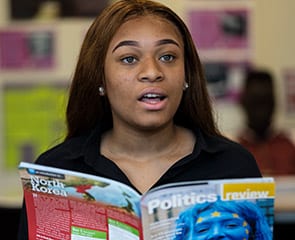 Your A Level in Politics will open the door to a variety of industries such as politics, journalism, diplomatic service, civil service, teaching and law.
CONTENT
In order to get the most out of this A Level, you will need to have an interest in politics, enjoy debates and consider other people's viewpoints before coming to reasoned conclusions. You will explore the engagement of people with politics and learn how the political institutions of the UK work. You'll also study the ideas that underpin political actions, and which other political ideas have emerged in the last century.
Your A Level in Politics will allow you to hone your analytical and essay writing skills. The course will comprise a variety of different study methods including debates and discussions, independent research and evidence-based questions and essays.
ENTRY REQUIREMENTS
English and Maths minimum Grade 5
Best 8 including English and Maths, minimum of 48 points, average 6
Must have a minimum of grade 6 GCSE in the subject you wish to study at A Level and a 7 for Science and Maths
ASSESSMENT
Your work will be assessed by external examination.
Find the right course for you: