Economics
A Level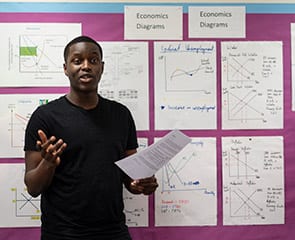 An A Level in Economics can be the starting point to a variety of careers – from engineering to accountancy. As a highly regarded subject it opens doors to a range of career paths including medicine, engineering, computer science or accounting.
CONTENT
Your A Level in Economics will give you a deeper understanding of how market economies work and you will examine the strengths and weaknesses of such systems using real world examples. You will also analyse current economic issues such as the housing crisis and fiscal policy.
As the course progresses you will examine different market structures and analyse their consequences for firms and consumers. You'll also learn about the world economy, develop your understanding of globalisation and examine the problems that hinder the rapid growth of developing economies. You will have opportunities to go on educational visits, including the Bank of England, and participate in external competitions. You will also be expected to keep up to date with economic developments by regularly watching the news.
ENTRY REQUIREMENTS
English and Maths minimum Grade 5
Best 8 including English and Maths, minimum of 48 points, average 6
Must have a minimum of grade 6 GCSE in the subject you wish to study at A Level and a 7 for Science and Maths
No previous study of Economics is required
ASSESSMENT
You will be assessed by exams at the end of each year of your course. You will undertake three papers: Unit one (Microeconomics), Unit two (Macroeconomics) and Unit three (themes in Economics). Each paper will account for one third of your final grade.
Find the right course for you: