Physics
A Level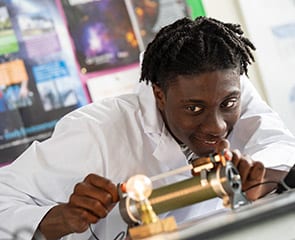 A Level Physics is an engaging yet challenging course that can lead to a wide range of careers such as engineering, astronomy, computer science, teaching and medicine. Your Physics course will lay the foundation for the skillset you need to pursue many different job roles.
Once you're trained in your chosen field, your qualification will open up a whole new world of possibilities. You could go on to become an engineer, doctor, astrologist, data analyst or a teacher, depending on which course you study at university.
CONTENT
During your A Level Physics course, you will be introduced to new concepts such as quarks, quantum physics and cosmology. Topics you will study include mechanics and the properties of materials, oscillations, waves and the nature of light, fields, particle physics and current electricity, thermal physics, nuclear instability, astronomy and cosmology. You will also take part in practical work throughout the duration of your course.
ENTRY REQUIREMENTS
English and Maths minimum Grade 5
Best 8 including English and Maths, minimum of 48 points, average 6
Must have a minimum of grade 6 GCSE in the subject you wish to study at A Level and a 7 for Science and Maths
You will also need GCSE Physics at grade 7 or GCSE combined Science at grade 7 or above. You will also be required to study A Level Maths if you are studying A Level Physics.
ASSESSMENT
You will be assessed by a written examination at the end of each year of your course.
Find the right course for you: