Trip to Greenwich University
First and foremost, we would personally like to thank The University of Greenwich for having us. With the picturesque panorama of London's boasting skyline and the supreme symmetrical structure of the 1890s university (who proudly claim the likes of Malorie Blackman and Charles K. Kao as graduates), the opportunity bestowed upon us to attend a lecture given by Dr Justine Baillie; a senior lecturer who specialises in American fiction and African-American writing.
At daybreak, we ventured off through the busy roads of the world-famous town, Greenwich, known for the traditional location of the Prime Meridian, our eyes captured by the ethereal historical landmarks such as the archaic building, the National Maritime Museum, and the world famous Cutty Sark.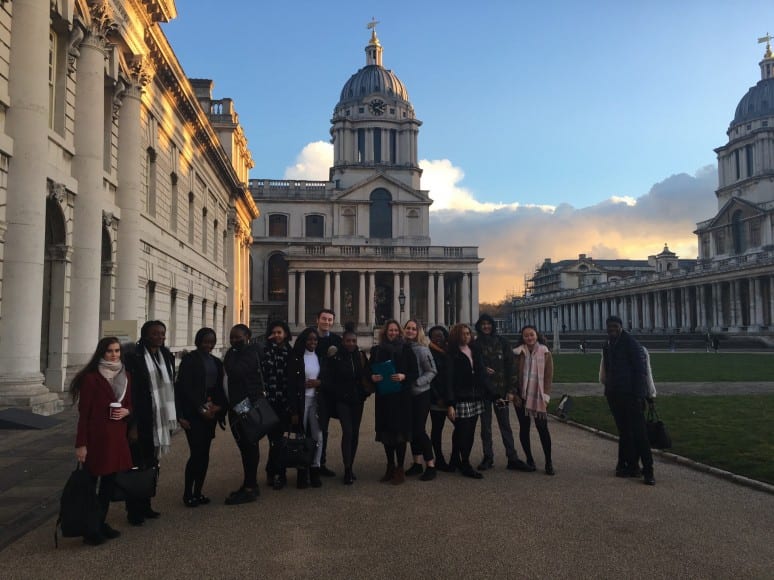 Dr Baillie introduced us to her mindset through bullet point notation of "key dates", "the development of American writing" and "the American frontier." Her encyclopaedia of knowledge of American history such as, the Declaration of Independence and the 1620 Arrival of Pilgrims at Plymouth enticed us to do some background research on the historical context of our literature texts. From the interwar classic, The Great Gatsby, to Steinbeck's realist fiction novel, The Grapes of Wrath, and lastly the renowned drama, A Streetcar Named Desire, Christ the King's English Language and Literature classes were bewitched to attend more of the University of Greenwich's twilight lectures. Although the upper sixth class did not find the lecture as useful due to already having further knowledge around the texts, on the other hand, the lower sixth had more to take from it.
Find the right course for you:
Trevor

AQUINAS

Progressed to: University of Lancaster Course: A Level Business, ICT and English Language and Literature

"My tutors at CTK were fundamental in my academic success. They were always approachable and willing to go the extra mile. I enjoyed taking part in extracurricular activities, including leading the sixth form band and being Director of the Business Enterprise Group, Student Governor and Student Head of Hall. "

Bradley

AQUINAS

Progressed to: University of Nottingham Course: A Levels Maths A*, Physics A* and Chemistry A*

"At Christ the King I discovered I was resilient. My teachers really pushed me to be my best, I am in their debt, thank you for believing in me."

Rose

AQUINAS

Progressed to: The University of Warwick Course: A Level History A, Politics A, Sociology A*

"CTK was a great environment for me to learn in. I've really enjoyed the teaching – all my teachers have been encouraging and supportive. They put in the extra time to help with workshops and revision to ensure we did well."

Owen

AQUINAS

Progressed to: Royal Holloway University Course: A Level Maths A, Psychology B and Biology A

"I would recommend coming to CTK as the level of support offered by the subject teachers is exceptionally good. The best thing about CTK is being part of the friendliest group of students I've ever met. I'm applying to Oxford to study Psychology. "

Esosa

AQUINAS

Progressed to: De Montfort University Course: A Level Biology, Chemistry and Maths

"My form tutor at CTK was exceptionally supportive every day. I value the freedom and independence of controlling my own learning, staying motivated whilst also having fun. The and people and sense of community provide a great environment. I have enjoyed extra opportunities such as joining summer schools and widening participation programs and becoming a student governor. I received lots of help from the careers guidance counsellor to help me realise what I want to do after sixth form. "