Results Day 2021
Results day 2021 success at Christ the King Sixth Forms
Another great year of results and prestigious university designations for CTK students
Students and staff at Christ the King Sixth Forms celebrated another year of examination results at all three sixth forms, with students overcoming the challenges presented by Covid19 to demonstrate grit and resilience and land top grades and university places.
Lorena Piedrahita-Lopez landed a place at her dream university, Cambridge to study Psychology and was one of only three students to be awarded a CTK Metric Capital scholarship. Lorena is one step closer to her mission to create more equal access to psychological therapies in the UK, after achieving top grades of A*AA in A Level English Literature, Psychology and Law at Christ the King Sixth Form in South London.
Lorena says; "I'd like to go into therapy with a specific aim to teach psychology therapy in Spanish. I believe that therapy in the UK should be available in other languages. I really enjoy helping others and I want to do things in other languages to support my own Latin community here in London. I believe in making small changes in our society which can have a big impact. What drives me is to make our world more inclusive, a little step at a time."
A number of A Level students gained three As and above in their studies. Harry Cook was delighted to secure his place to study Physics at Kings College London after achieving three A's at A Level in Physics, Chemistry and Maths. Harry said "I would recommend anyone to come to CTK, the staff are so supportive, especially during Covid19".
Divine Davidson also achieved three A's at A Level, in Chemistry, Biology and Psychology and is off to study Biomedical Science at Kings College in London. Divine said "I have had great teachers at CTK and thoroughly enjoyed learning my subjects. The sixth form provided me with so many opportunities to improve and there is such a great community spirit".
Jada Buisson got an impressive four A's at A Level in Business, Sociology, English Language and Literature and Politics. She said "CTK is academically rigorous which helped me to achieve my full potential".
Social science A Level students also gained success. Vincentia Donkoh was thrilled to gain a place at Nottingham University to study Social Work after achieving an A in A Level Sociology, A in Media Studies and a Distinction Star in ICT. She said "I got so much support with my university application, the teachers were so supportive and the teaching style was really good". Joyce Kadibu got A* in Media Studies, A in Sociology and B in Psychology and is going to study Sociology at Warwick University. She said "I liked how genuinely encouraging and positive the teachers were at CTK, this really helped me to reach my full potential and achieve my goals". Lucy Whitmarsh secured a place at University of Bristol to study Theology and Religion after achieving grades A*, A,* A in Religious Studies, Psychology and French. She said "CTK has a really warm environment, it is very academic and the teachers push you to achieve".

Christ the King Sixth Forms Executive Principal Shireen Razey said "We are so proud of our students as they move on to their chosen next steps, they have shown resilience, courage and commitment throughout their studies. I would like to thank all staff for their tremendous support and dedication during these unprecedented times. We wish each of our students every future success in their university, apprenticeship and employment destinations and look forward to hearing of their great successes as CTK Alumni. "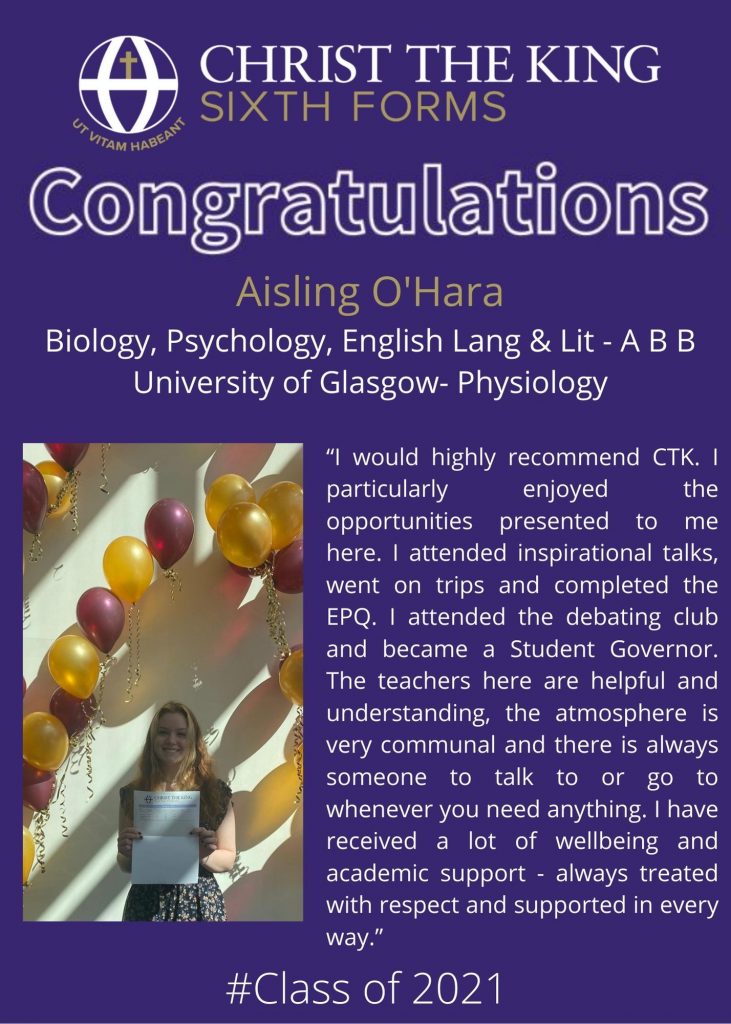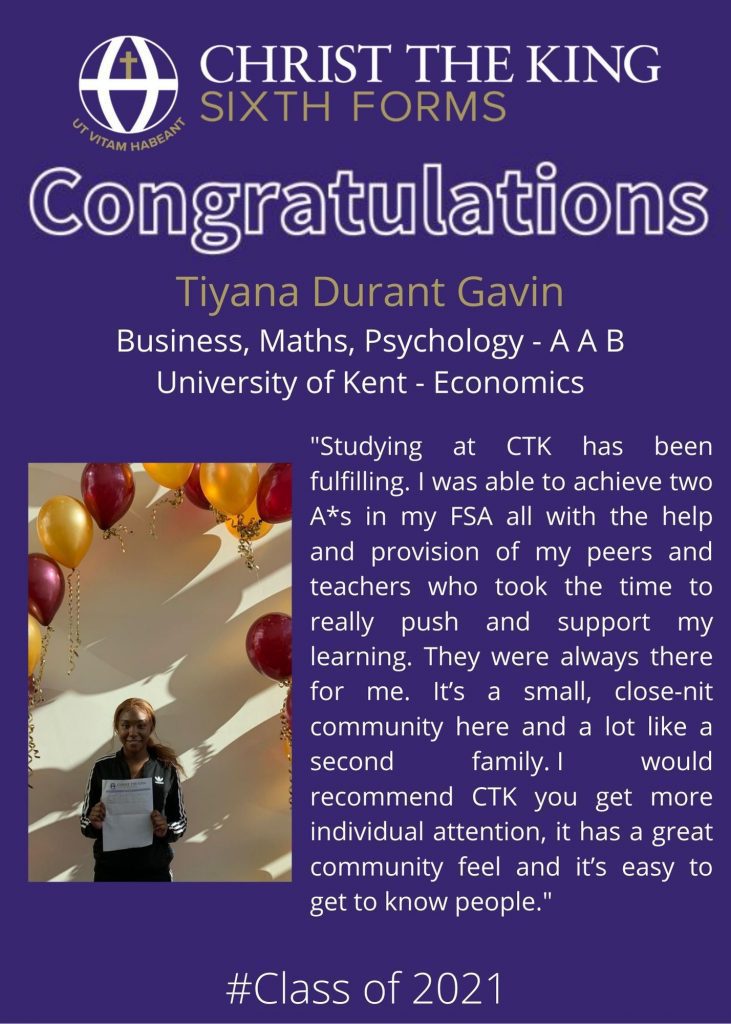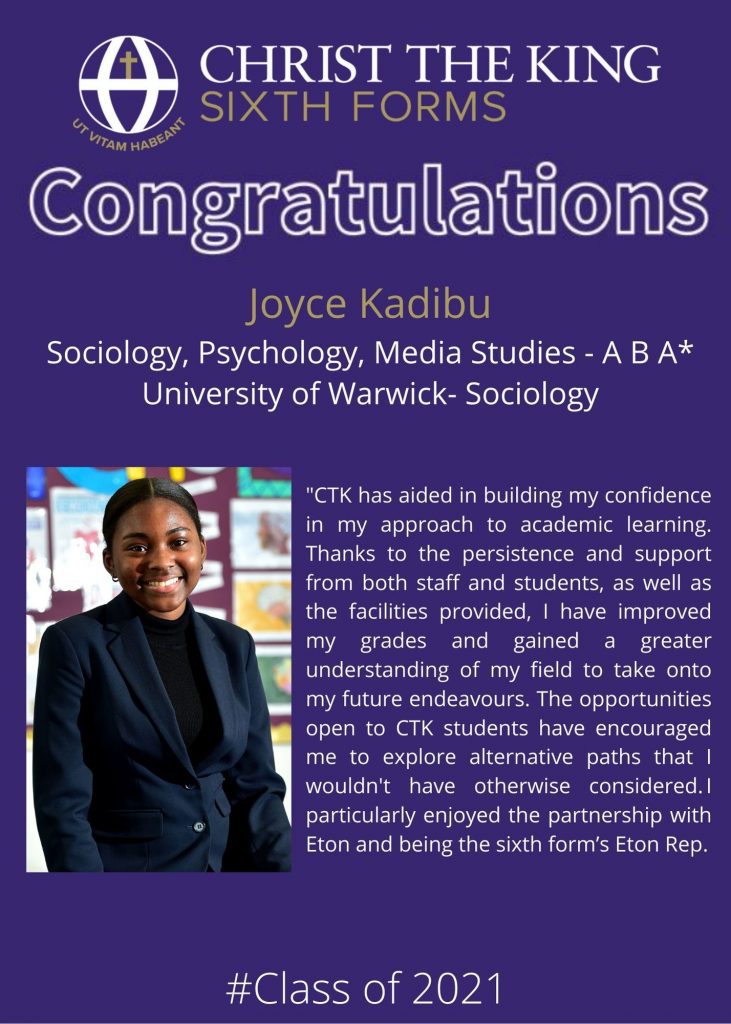 Find the right course for you:
Trevor

AQUINAS

Progressed to: University of Lancaster Course: A Level Business, ICT and English Language and Literature

"My tutors at CTK were fundamental in my academic success. They were always approachable and willing to go the extra mile. I enjoyed taking part in extracurricular activities, including leading the sixth form band and being Director of the Business Enterprise Group, Student Governor and Student Head of Hall. "

Bradley

AQUINAS

Progressed to: University of Nottingham Course: A Levels Maths A*, Physics A* and Chemistry A*

"At Christ the King I discovered I was resilient. My teachers really pushed me to be my best, I am in their debt, thank you for believing in me."

Rose

AQUINAS

Progressed to: The University of Warwick Course: A Level History A, Politics A, Sociology A*

"CTK was a great environment for me to learn in. I've really enjoyed the teaching – all my teachers have been encouraging and supportive. They put in the extra time to help with workshops and revision to ensure we did well."

Owen

AQUINAS

Progressed to: Royal Holloway University Course: A Level Maths A, Psychology B and Biology A

"I would recommend coming to CTK as the level of support offered by the subject teachers is exceptionally good. The best thing about CTK is being part of the friendliest group of students I've ever met. I'm applying to Oxford to study Psychology. "

Esosa

AQUINAS

Progressed to: De Montfort University Course: A Level Biology, Chemistry and Maths

"My form tutor at CTK was exceptionally supportive every day. I value the freedom and independence of controlling my own learning, staying motivated whilst also having fun. The and people and sense of community provide a great environment. I have enjoyed extra opportunities such as joining summer schools and widening participation programs and becoming a student governor. I received lots of help from the careers guidance counsellor to help me realise what I want to do after sixth form. "